With console players having to pay for their online services, Sony, Microsoft, and Nintendo have to ensure that players feel as if they are getting their money's worth. Whether or not they always do is up for debate, but every one of them has had highs and lows, big victories and huge controversies: PS Plus, Xbox Game Pass, Games with Gold, Nintendo Switch Online, and so on.
Sony is allegedly working on a Game Pass competitor that will combine PS Plus and PlayStation Now, and that news is expected pretty soon. For now though, PlayStation Plus is the main way that PS4 and PS5 owners collect their free games every month, and every March has been pretty big for the past few years. PS Plus tends to follow patterns, and the same could be said for its leaks.
RELATED: Free PS Plus Games for March 2022 Revealed, Includes 4 Games
According to Dealabs, a source that has accurately leaked the games several times in the past, the free games on PS Plus for April 2022 are Hood: Outlaw and Legends, Slay the Spire, and SpongeBob SquarePants: Battle for Bikini Bottom Rehydrated. While this should be treated as a rumor, the chance of this leak being accurate is pretty high. Indeed, many have come to look for Dealabs' leaks, particularly user Billbil Kun's, because they have yet to be wrong.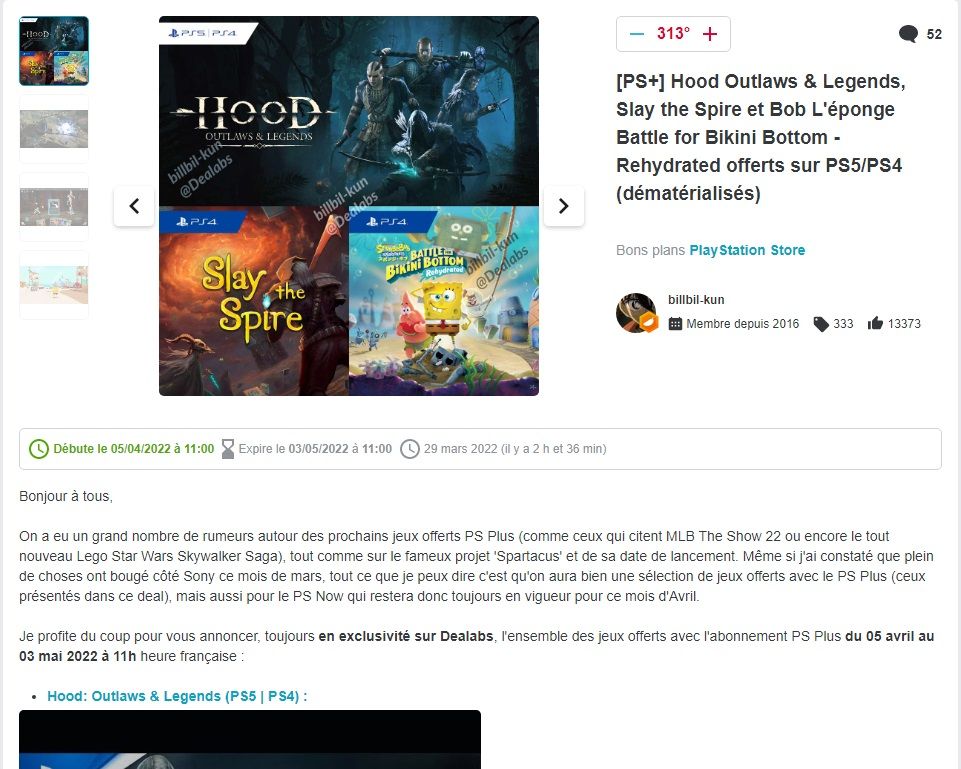 Hood: Outlaw and Legends is a unique PvEvP multiplayer games, and while its release largely went under the radar, multiplayer games tend to do well with PS Plus. Slay the Spire is another unique title, combining roguelike elements with deck-building. Finally, SpongeBob SquarePants: Battle for Bikini Bottom Rehydrated is a remaster of a classic platforming game near and dear to many hearts. At the end of the day, these may strike a chord with a few users.
As always, there were plenty of eyes looking to see what the next lot of free games would contain. Sony is expected to confirm the PS Plus games tomorrow, on March 30, and it would be no surprise to see these leaked games there thanks to Dealabs' track record. PS Plus users, when confirmed, will be able to download them beginning on April 5 and will have the rest of the month to do so.
MORE: Epic Games Store Free Games for March 31 Take a Page from PS Plus' Old Playbook
Source: Dealabs
About The Author